Burnout is very common in software development. Intense mental focus, heavy workloads, never ending roadmaps, under-staffed teams, unclear targets, and many other factors lead to developer burnout.
I have experienced burnout in my career, perhaps twice. Early on, I had mild symptoms and my manager recognized it and helped me manage it. Later, after a very long stretch of working very long hours, 7 days a week on some super unrealistic goals with very little support, I ended up getting a bad case of burnout. It took me weeks to recover from it.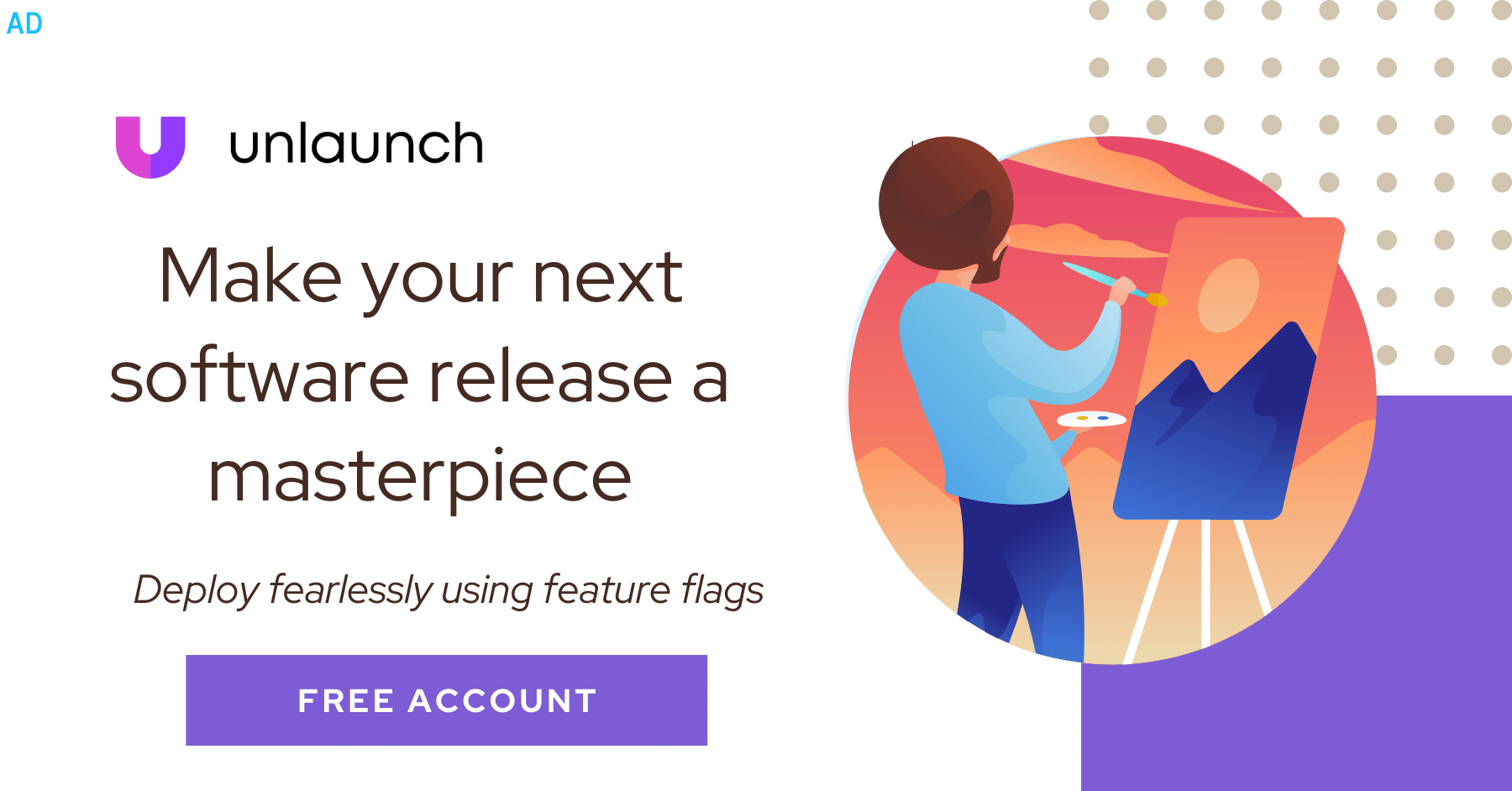 When COVID-19 forced remote work shift began in companies, it was a step in the right direction by giving developers the flexibility to work from anywhere. However, I started hearing more and more about burnout. In this article, I will share results of a developer survey we did to explore if COVID-19 is somehow making the burnout situation worse.
What is burnout?
Burnout is a form of exhaustion caused by constantly feeling swamped. It's a result of excessive and prolonged emotional, physical, and mental stress. In many cases, burnout is related to one's job.

Burnout happens when you're overwhelmed, emotionally drained, and unable to keep up with life's incessant demands.
If it sounds very broad, it actually is. Burnout doesn't have a test that your doctor can prescribe and be certain whether you are suffering from it or not. Regardless, if it's not identified and addressed, it will continue to grow until it grinds you down and become the new normal. When that happens, it is not easy to pull yourself back out. It might take many months or even years to shake it off.
Here are some of the common symptoms of burnout:
You stop enjoying working on things you used to enjoy and lose motivation for weeks.
You feel exhausted or fatigued all or most of the time. You have low energy at work and at home. You struggle to sleep and wake up feeling tired.
You don't feel a sense of accomplishment or feel sort of hopeless about results.
(The symptoms are pretty similar to Depression. Unlike burnout, depression is a clinical condition which requires immediate medical attention.)
What causes burnout?
Here are some of the common causes of burnout:
Lack of control. An inability to influence decisions that affect your job — such as your schedule, assignments or workload — could lead to job burnout. So could a lack of the resources you need to do your work.
Unclear job expectations. If you're unclear about the degree of authority you have or what your supervisor or others expect from you, you're not likely to feel comfortable at work.
Dysfunctional workplace dynamics. Perhaps you work with an office bully, or you feel undermined by colleagues or your boss micromanages your work. This can contribute to job stress.
Extremes of activity. When a job is monotonous or chaotic, you need constant energy to remain focused — which can lead to fatigue and job burnout.
Lack of social support. If you feel isolated at work and in your personal life, you might feel more stressed.
Work-life imbalance. If your work takes up so much of your time and effort that you don't have the energy to spend time with your family and friends, you might burn out quickly.
How to deal with burnout? Here's a a good must-haves list to prevent burnout:
Exercising 2 - 3 times a week
Eating well (fruits and veggies)
8 hours of sleep at least 4 nights a week
Unplugging totally for at least a week a year
I'll add the following as well:
Set aside some time (at least 30 minutes) to go for a walk everyday. Don't check your Slack or emails when walking.
Don't work from your bedroom. If you can, move your desk to a different room or another area. At the end of the day, walk away from your desk marking the end of the work day. Maintain proper work-life balance.
Strongly second sleeping at least 8 hours more than once a week.
Spend time with your friends and family.
Meditate.
Developer Survey Results
Let's look at the results of the software developers survey to understand the scope and impact of burnout given COVID-19 related changes in workplaces. Here are the survey stats:
A total of 504 developers participated in the survey.
71% of the participants who took the survey were from the US, while the remaining 29% were from rest of the world.
87% of the participants were individual contributors with titles such as Software/Lead/Staff/ Principle Engineer or DevOps. Rest were in (engineering) or product management.
62% worked in companies with more than 500 employees.
82% of all developers indicated that they have experienced burnout in last 6 to 8 months
The first question on the list asked software developers if they are experiencing or have experienced burnout in the last 6 to 8 months. A whopping 82% said yes. Almost 50% developers cited feelings of burnout to a "great" or "moderate" extent.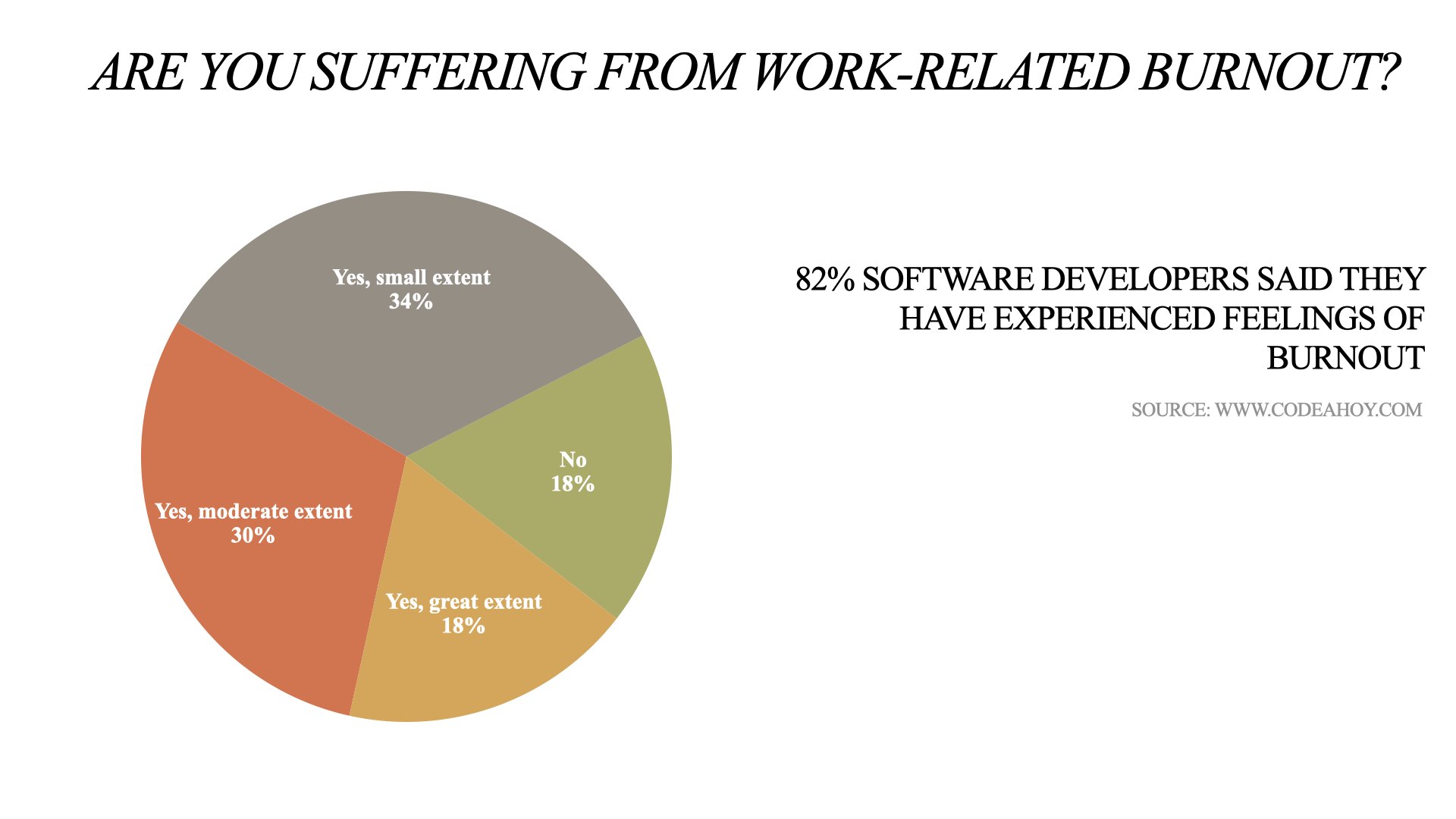 ---
73% developers said burnout is negatively impacting their productivity or personal life
This was not a surprise. Lack of energy and motivation directly leads to lower productivity at work. Burnout also affects personal life and relationships.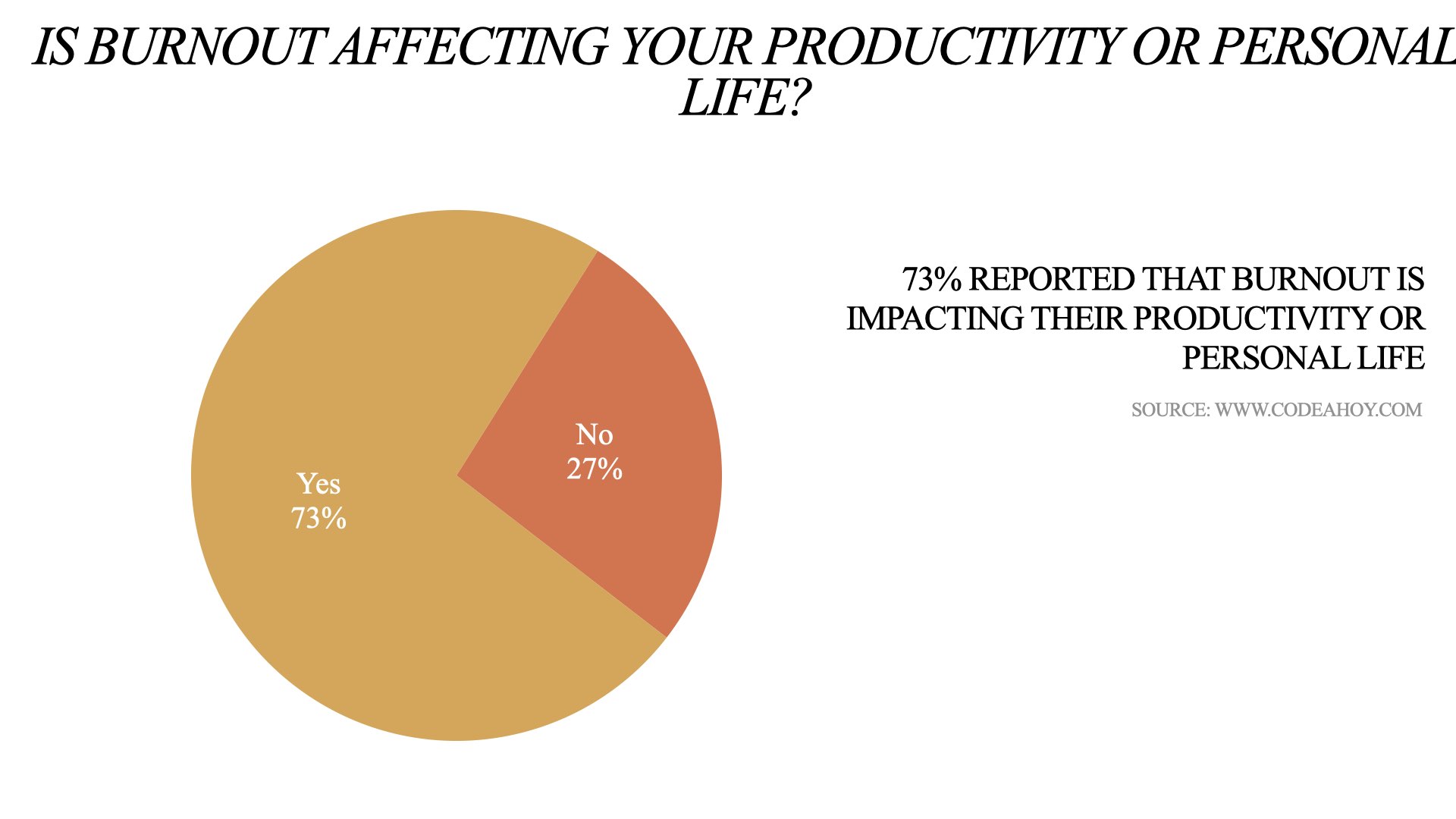 ---
Developers indicated increased workload and and poor work culture as the main reason
This was a multiple choice question. There were many options to choose from and participants could even come up with their own answer. I have summarized work-related reasons as "Poor work culture" and pandemic related as "COVID-19".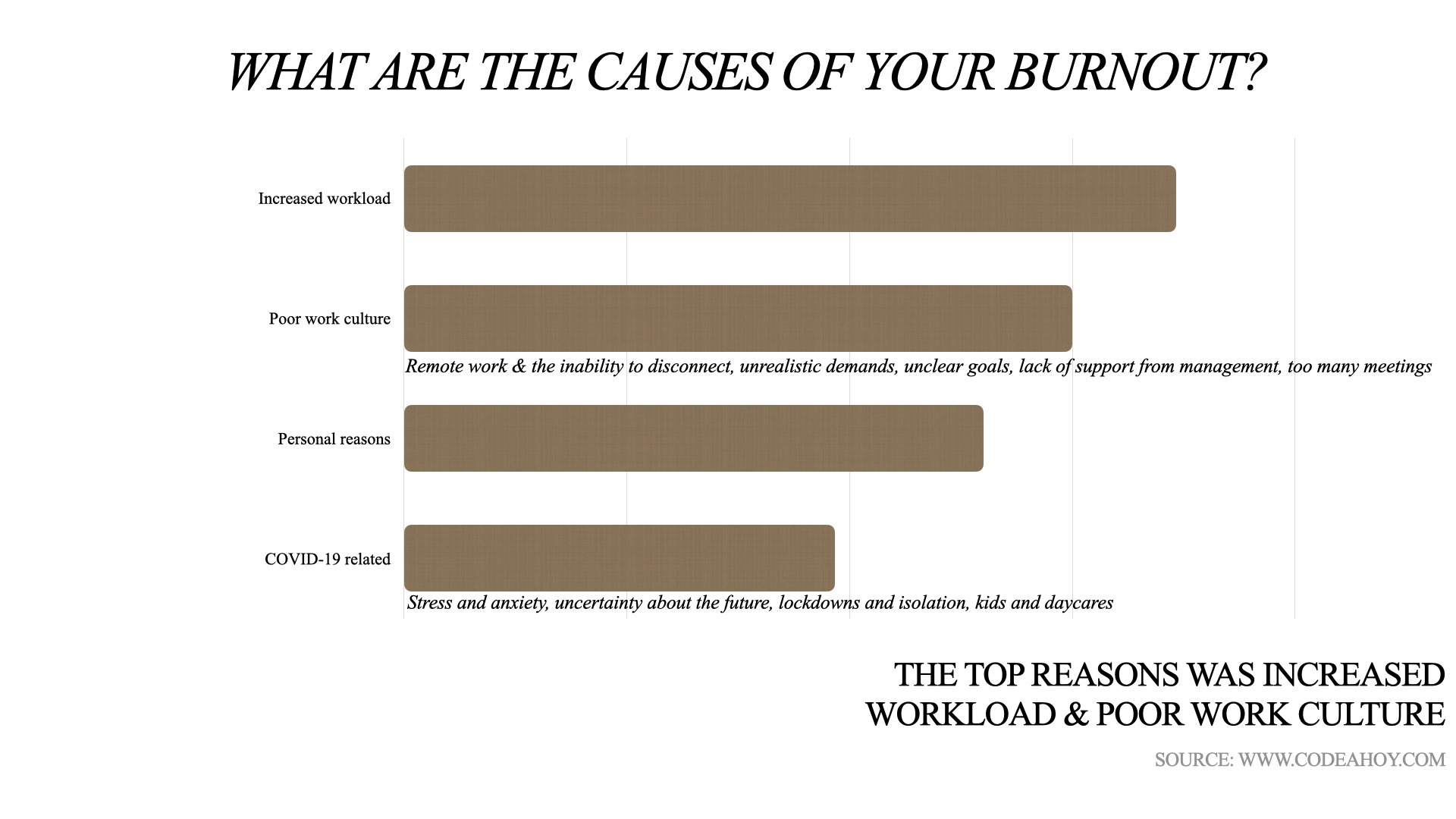 ---
57% developers indicated that COVID-19 has made the situation worse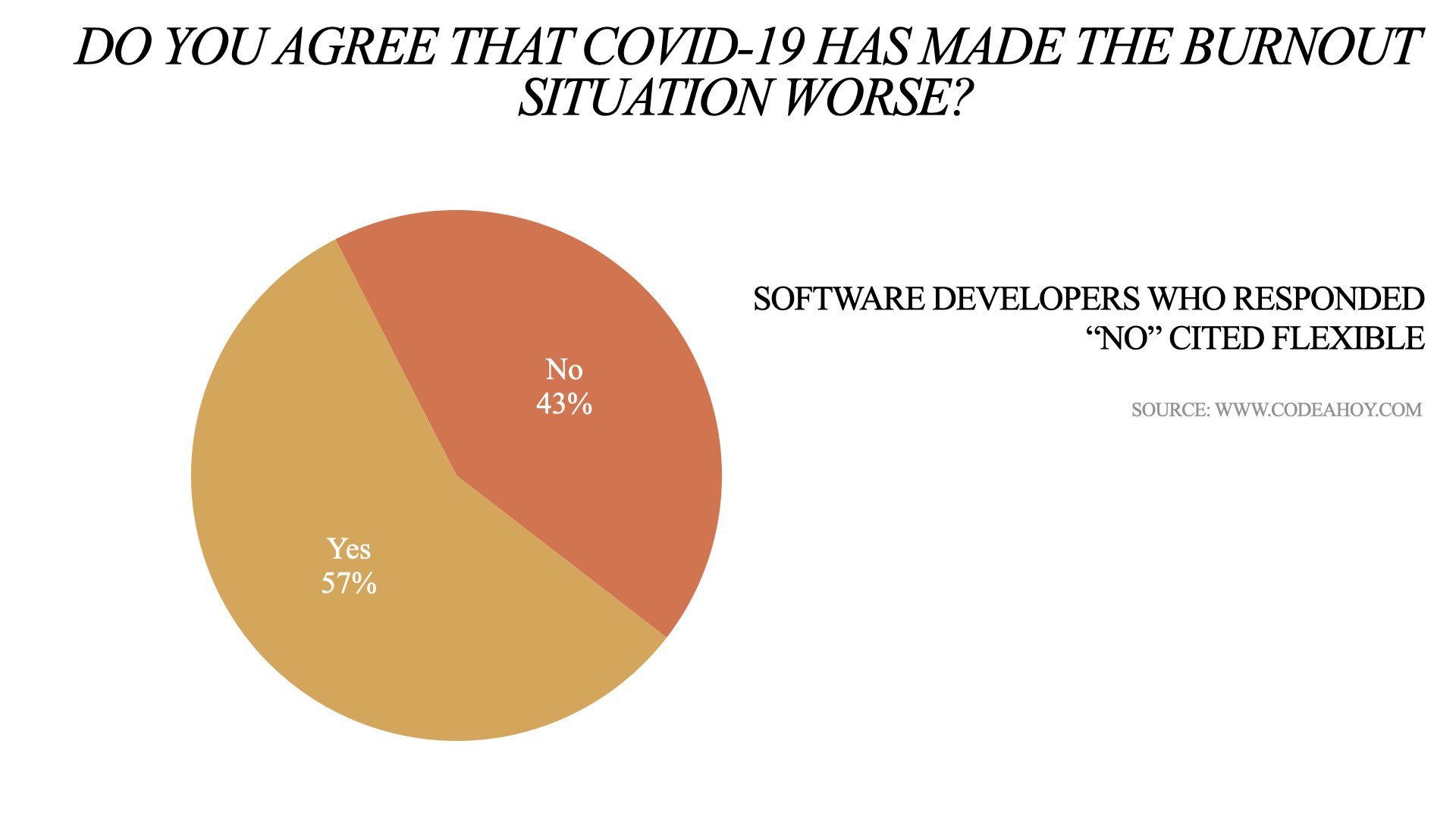 Participants were also given an option to provide more details by leaving comments. The top theme was not having to commute to the workplace every day as the silver lining.
---
77% of the developers indicated that their management is not aware of the burnout or not taking any steps to help its employees manage it
Only 23% said that their company has formally recognized burnout and other challenges and taking concrete steps such as additional days off, reasonable worloads, etc. to ensure employee well-being. Kudos to companies who are doing this!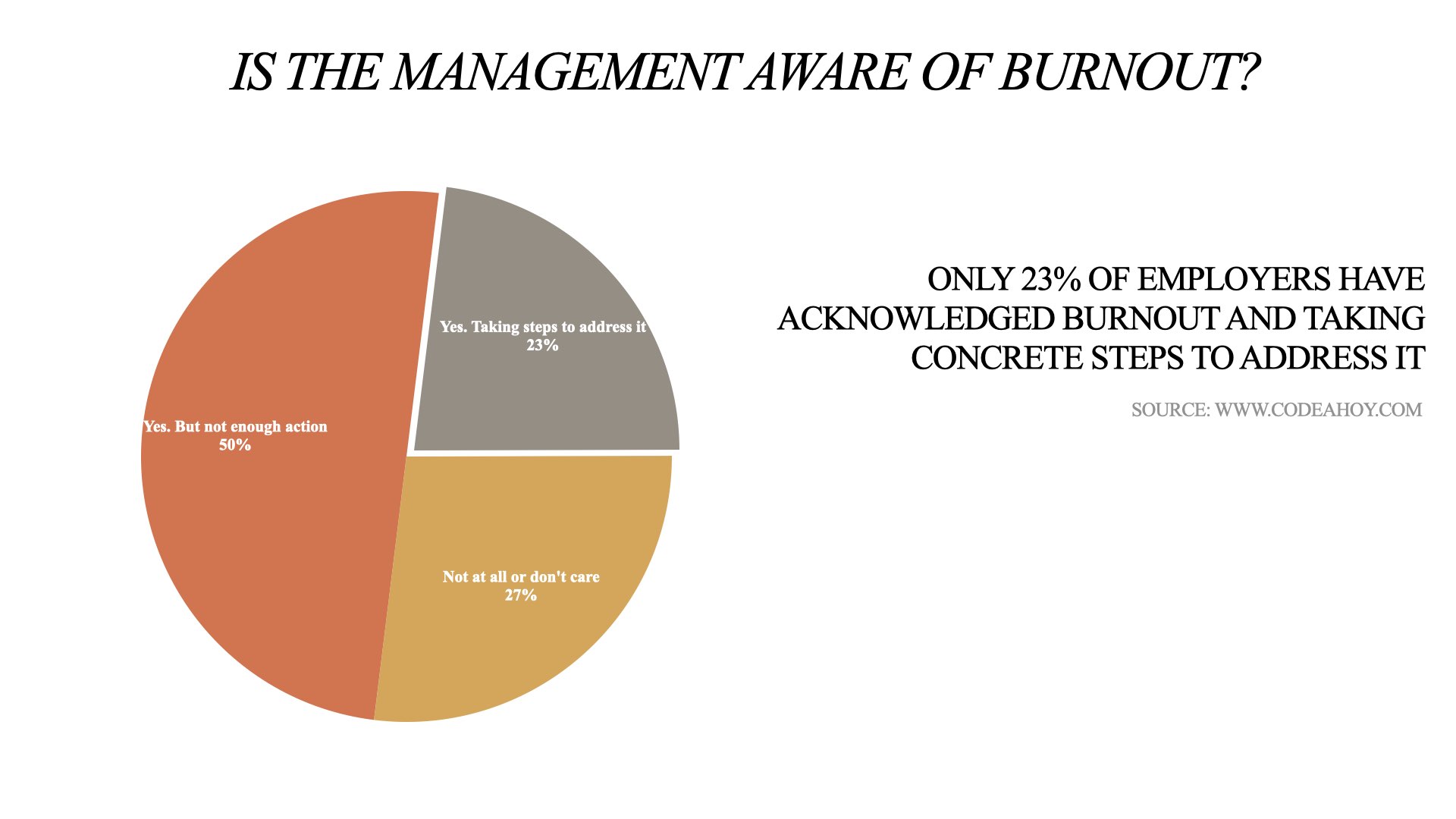 ---
78% of the developers said they are planning to switch their job within the next 12 months
I was expecting this number to be high, but not this high. Only 22% cited burnout as the reason behind their desire to switch jobs. I wish I had a comments enabled for this question to better understand the reasons why such large percentage of developers are considering a career change.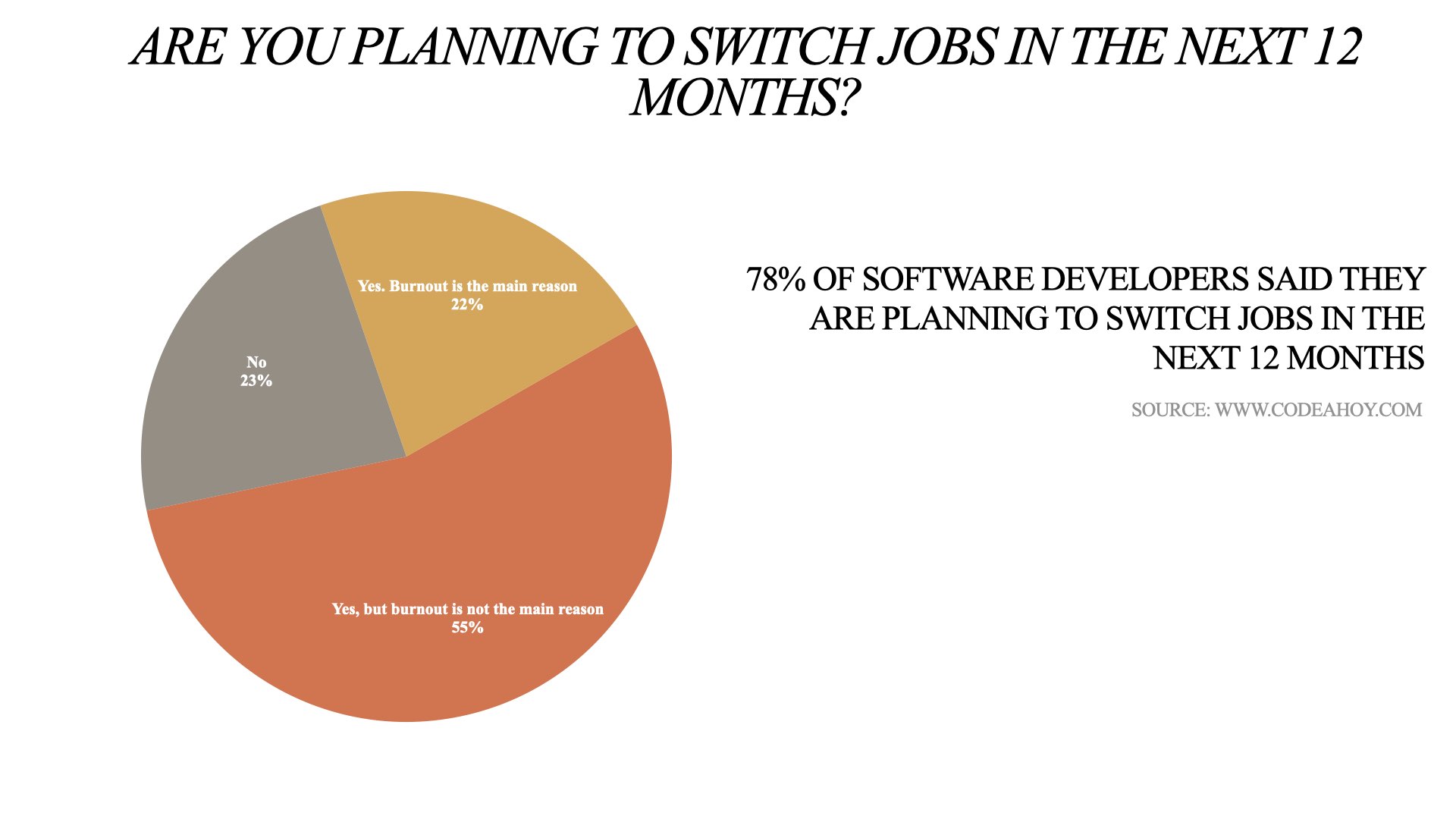 Other comments
Developers surveyed were asked to leave their comments. I can't post them all, but here are few of them.
Lots of engineers left. The workload has increased significantly and management can't hire enough people. Working longer hours and wait for the weekends to recharge. But weekends are mostly groceries, chores, helping kids with their homework.. the cycle continues
Inability to disconnect from work, expectations of being always reachable and no thought for planning for alternate coverage.
I work as a QA for 3 years and I've recently got hired after being fired by low productivity. My understanding is the overload of what clients consider on our job. It should be related to software Quality Assurance, but because I only dealt with legacy systems (bank and flight), QAs don't even know the expected behavior, not even the users themselves. I'm planning on switching jobs.
I'm still fairly new to my position, and it takes time to get used to a new codebase, company, and processes, which makes my job more stressful and creates pressure to get up to speed.
There you have it. Thanks to everyone who participated in the survey and provided their feedback. Leave your comments in the comments section below.
If you enjoyed this post, please sign up for Unlaunch, which lets you release your code whenever you want and change its behavior on the fly using Feature Flags.